...to the point where I want to cry.
All of the criticism I get from other girls upset me because they just don't get it. To them it looks like I'm letting myself go, that may be the case because all I do is wear buns and ponytails because it's getting to be a serious task that needs more time than I have for it. Just yesterday a girl, who is natural, said to me "You've been looking a mess this year. What happened to your hair? Where'd it go" so on and so forth. I actually cut my hair above my collar bone April of 2009 and I'm not sure she knew that but the fact that she basically told me I looked a mess hurt me just a little. But I didn't let her know that I was transitioning. It's just been really hard. High school is cruel.
I've had long hair since I was little until I cut it Freshman year and every year since and it got shorter each time. In middle school I was "The black girl with long hair." It's just hard for me to imagine myself with very little hair after the BC.
During my whole transition, about 7 months, I didn't use heat on my hair because I was scared of heat damage early on. Last night I was looking at pictures of girls on Facebook and they all had long hair, some weaves, but seeing that made me feel like they were better than I was. I caved in and flat ironed my hair to show people that I really do have long hair. They don't understand that the natural hair is curly and causes my hair to appear shorter than it is.
At school today I got so many compliments on my hair, "It's so long.", "It's so pretty." It discouraged me to hear that because although that's what I wanted to show people, it also made me think that I wasn't pretty otherwise and it made me want to keep my long hair and relax it.
Here are a few length shots:
The hot pink line is where my hair stops when it is wet and the shrinkage takes over. I'm about APL. I'm pulling it because it's been raining causing my hair to poof.
Also you can see how much my hair has grown over the past year because you can see where my highlights start. I cut my hair above collar bone and got highlights April 16th, 2009. So yeah...great growth.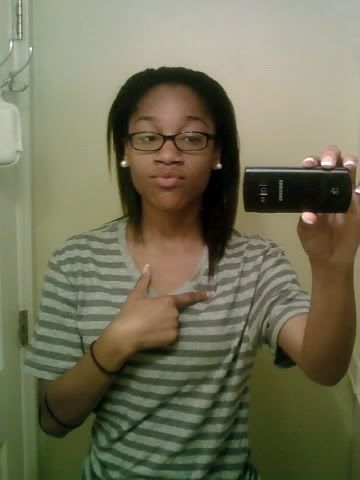 No, one side isn't longer than the other, the rest of my hair is pulled back. I had gotten layers last year also.
This journey essentially is a struggle with myself and I feel as though I'm all alone in it.